Parkwood Leisure expands it's offer at the Riviera International Centre
Parkwood Leisure repurposed a free weights area to open their first Shapemaster suite, installing a new 12-station Shapemaster circuit at the Riviera International Centre. The newly refurbished area opened its doors to the local community in October 2021, as part of a centre-wide refresh and investment to improve provision for all in Torquay.
The addition of the Shapemaster power assisted exercise circuit provides a health and wellbeing solution for Parkwood Leisure that will help the centre attract a completely new market to their leisure centre, one that focuses on the demographic profile of the area surrounding Riviera International Centre.
The unusual shape of the room, along with retaining walls which creates breaks in the flow, provided an opportunity for Shapemaster to demonstrate its strength in creating a group exercise experience in a challenging space, whilst also providing for a brand new demographic at the centre – the untapped and under-served active ageing market.
Romanie Nicholls, Shapemaster Studio Co-ordinator commented: "Shapemaster is proving to be a real success. I am amazed at how much progression there is with our customers and the highlight of every day is seeing their growth both physically and mentally. It's also lovely to see the friendships forming.
She continued, "I've become so passionate about what Shapemaster does and I'm still thanking my lucky stars for the role I am in which allows me to have such an important impact on these people's lives."
Customers to the suite have also seen significant improvements to their health and quality of life.
"Shapemaster has changed my life. I am walking better and reached my target steps for the first time ever! I would recommend this service to anyone who is looking to increase their mobility", said Sue, a regular visitor to the new Shapemaster suite.
Other members have reported improvements in posture and reduction of pain.
"Since coming to Shapemaster, I have noticed improvements in my posture and I feel comfortable that I can exercise safely. If I could describe the Wellness Hub in 3 words it would be fun, friendly and enjoyable", Andy who now visits regularly commented.
Pat, who joined a few months ago, commented, "Since joining Shapemaster, my hip pain has eased at least 50% and it is one of the best decisions I made joining."
And Lindsay, another user at the centre, added, "I really enjoy my time at Shapemaster. Since joining, I feel my posture and flexibility has improved. Romanie is an excellent leader. She makes sure everyone is safe, happy and comfortable. There is a lovely, friendly atmosphere and I look forward to coming."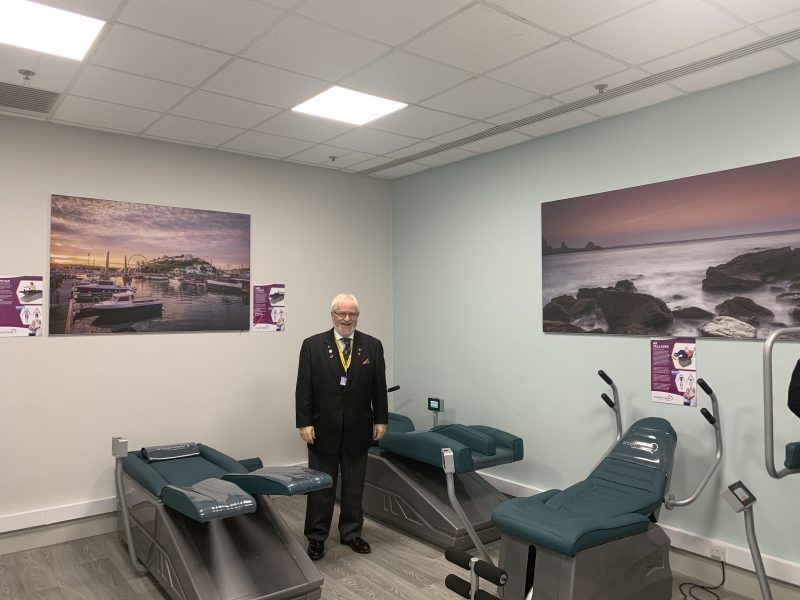 Andy, after a recent visit to the Shapemaster Suite at Riviera International Centre.
Within two months of opening, the Shapemaster Studio has welcomed 53 new members and there is a regular flow of new enquiries and trial circuits which will ensure membership continues to grow towards business plan targets. Although this may appear a low number, based on the time of year but also due covid uncertainly the numbers are exciting. By the end of month three, the suite had grown to over 90 new members, showing consistent membership growth, again at a time when growth is generally slow in the industry.
David Heathcote, Head of Business Development at Shapemaster, said: "It is vital that pioneers like Parkwood Leisure challenge the norm: traditional leisure provision, which only provides for the same 15% of people who take out gym memberships. As our society ages, and as the 'baby boomer' generation ages, the new Shapemaster suite at Riviera International Centre will not only provide a diversified and sought-after leisure opportunity for the community of Torquay, but it will also ensure a real business proposition for Parkwood Leisure, with the centre expanding its offer, attracting new income from a previously untapped market of customers."