The Therapy & Rehabilitation Sector
Our range of power assisted exercise equipment has been specially designed for people living with limited mobility, older adults and for those managing long term conditions including multiple sclerosis, stroke, fibromyalgia, diabetes and arthritis.
Unlike conventional exercise equipment, the Innerva range of equipment does not rely exclusively on muscle power, but by an electronic power system enabling users to work passively or actively, depending on their ability. Innerva equipment provides safe exercise to all the major muscle groups and helps to re-train movement patterns, whilst at the same time stimulating metabolic and circulatory systems.
Where is it used?
Power assisted exercise equipment is used by individuals all over the world in a variety of outlets which include specialist rehabilitation & therapy centres, hospitals, care homes and leisure centres.
Key features:
Plug and play installation
Removable components for easy access and transfer of service users/ patients
Dual function promotes simultaneous movement of upper body and lower limbs
User friendly console
Soft supports for good positioning and alignment
+
+
+
+

User friendly console
+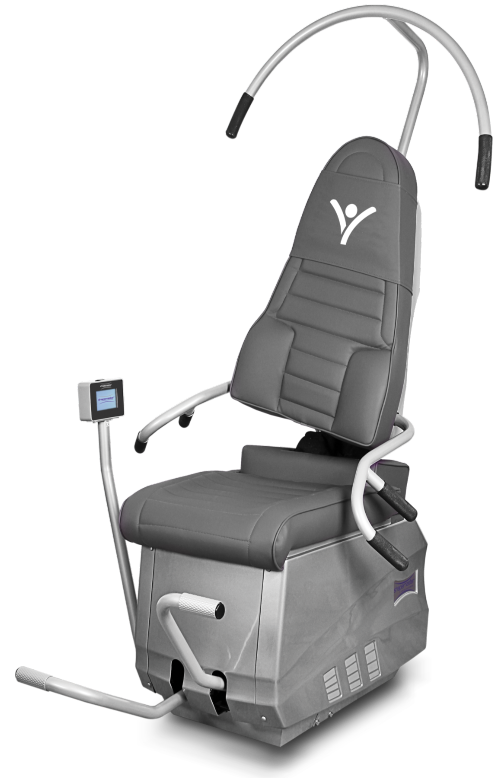 Who uses it?
Power assisted exercise equipment can be used by almost anyone regardless of age or disability. There is also a large growing number of individuals using the equipment to manage long term conditions and symptoms such as:
Stroke
Arthritis
Balance and co-ordination problems
Dementia Parkinson's Disease
Post-operative rehabilitation, e.g. hip and knee replacements
Orthopaedic conditions, e.g. Scoliosis
Obesity
Cardiac conditions
Respiratory conditions, e.g. asthma, COPD, post COVID
Spinal cord injury Brain injury Cerebral Palsy
MS and other neurological conditions
Fibromyalgia
Fatigue
Shapemaster equipment has enabled me to exercise for the first time in six years and help me regain a more confident post-stroke mobility in addition to healthy weight loss. Anyone waking up from a stroke should have access to this unique and innovative power assisted exercise equipment.
Assistive mechanism supports initiation and enables sustained movement experience
Repeated movements for improved neuro plasticity
Supports fatigue management
Reciprocal and bilateral movement patterns to promote symmetry
Integration of lateral flexion and trunk rotation for increased rib cage mobility
Combination therapy enables both cardiovascular & strength training
Increased muscle strength associated with movement effort
Group facilities support positive peer interaction
Evidence
A recent survey conducted amongst over 300 service users indicated
47
of participants can move better
68
say that since using PAE they generally feel better
23
indicated their social life had improved
27
say they can move parts of their body they couldn't move before
30
indicated their mobility had improved
I Can Therapy Centre
The I Can Therapy Centre in Andover was launched in November 2017. Owned, operated and managed by independent charity Valley Leisure Ltd.
West Berkshire Therapy Centre
West Berkshire Therapy Centre is a registered is a specialised therapy centre for people with disabilities. It was awarded the Queen's Award for voluntary service.